Credits:
http://www.rappler.com/sports/by-sport/basketball/fiba/2013/match-reports/35362-iran-malaysia-115-25-fiba-asia
BY ENZO FLOJO

115-25: Iran bludgeons Malaysia in FIBA Asia opener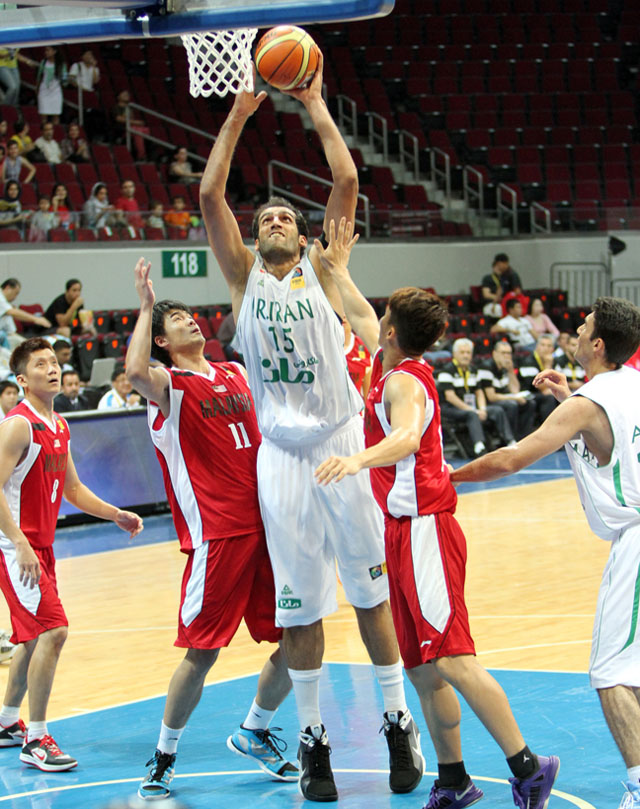 MANILA, Philippines -- Exhibit one to prove why they might need to be a mercy rule in FIBA competitions -- Iran beating Malaysia, 115-25, in the 2013 FIBA Asia Championships on Thursday, August 1 at the Mall of Asia Arena.
Iran dominated early, with Mahdi Kamrani and Hamed Haddadi combining for 15 of Team Melli's first 16 points.
Malaysia's young guys had no answer for a clearly more talented and more aggressive Iranian side.
Coach Memi Becirovic's boys utilized their size and experience advantage to the hilt, unnerving the Malaysians with suffocating defense and relentless offense.
At the end of the first half, Iran carried a commanding 58-13 lead.
The terrific trio of Haddadi, Samad Nikkhah Bahrami, and Mahdi Kamrani combined for 33 of those points, while Hong Hoong Gan had 8 to lead Malaysia.
Bahrami, in particular, was in fine form, showing no signs of the injury that plagued him last year's FIBA Asia Cup.
The second half was even tougher for the SEABA side, as Iran outscored them 33-2 in the third period. Entering the fourth, former NBA slotman Haddadi already carried a 21-point, 8-rebound stat-line to underscore the WABA squad's dominance.
Team Melli switched to cruise control in the final frame, with their big three no longer playing. This should be Iran's easiest win of the first round, especially since they take on Korea tomorrow and then China on Saturday.
The scores:
IRAN (115) - Haddadi 21, Kardoust 15, Kamrany 12, Jamshidi Jafabaradi 12, Nikkhah Bahrami 11, Sahakian 10, Veisi 9, Davari 8, Afagh 7, Sohrabnejad 4, Arghavan 4, Davoudichegani 2.
MALAYSIA (25) - Gan 11, Tong 3, Wong 3, Ooi 2, Soo 2, Kuek 2, Mak 2.
Quarters: 42-3, 58-13, 91-15, 115-25. - Rappler.com
Credits:
http://www.sunstar.com.ph/breaking-news/2013/08/09/fiba-asia-gilas-pilipinas-books-semis-berth-297039
By Virgil B. Lopez
Friday, August 9, 2013
MANILA -- Total domination.
Gilas Pilipinas displayed its best game so far in the 27th Fiba Asia Championship, routing Kazakhstan on Friday night, 88-58, to book a trip to the semifinals.
Gary David, who undoubtedly regained his shooting touch after days of sub-par performances, exploded for 22 points.
"We haven't done anything yet. What we have done is to put ourselves in good position. Hopefully we can play better tomorrow (Saturday)," said Gilas coach Chot Reyes.
Gilas' opponent will be known after the quarterfinal match between South Korea and Qatar.
The other semifinal pairing will pit Iran and Chinese Taipei, which delivered the biggest shocker of the tournament after ousting defending champion China, 96-78.
"At the beginning of this tournament, I told my players to pray hard, play smart and play together. We just want to win. We will fight until the end," said Chinese Taipei coach Hsu-chin chen.
China's Greek mentor Panagiotis Giannakis rued his team's loss and a big one at that.
"It's a very bad fight for us. We came here to do our best but we forgot to play the way we usually play," he said.
The semifinal round is on Saturday at the Mall of Asia Arena in Pasay City.
Credits: 2013 FIBA Asia Championship
Credits:
https://www.facebook.com/pages/2013-FIBA-Asia-Championship/167896596661709
Gilas Pilipinas Line-up
Champion Iran
Silver Philippines
Credits: FIBA Asia Photo Nuki Sabio

---
Permissions in this forum:
You
cannot
reply to topics in this forum