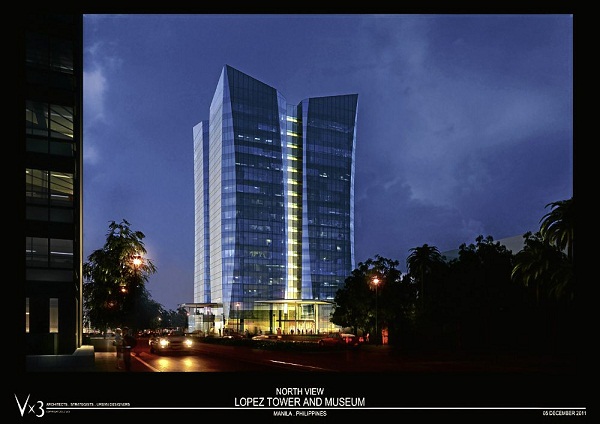 Rockwell Center to house history, culture and people
History has found a new home.
Rising 19 stories high, the new Lopez Tower and Museum will house a collection of Filipiniana archival material encompassing 600 years of Philippine arts, history and culture.
The same building, which broke ground in upscale Rockwell Center Makati on April 26, will also serve as home to the Lopez family's holding companies and various businesses in property development and energy.
"We are eager to welcome the rest of the Lopez Group of companies here in Rockwell Center, and to house the Lopez Museum is definitely a gem to our Philippine history and culture," said Rockwell Land president Nestor Padilla.
Four pillars
But what is actually unique about the more than 30,000 square meters of leasable space that the new property offers, is that it will be composed of four pillars that will serve as a symbol to the intrinsic values that the Lopez clan carries, namely: entrepreneurship, integrity, leadership and public service.
"The Lopez Tower and Museum definitely completes Rockwell Center's masterplan," Padilla added.
Currently, the Lopez Museum is at the Benpress Building, but will be transferred upon the tower's completion in 2014.
Valuable art pieces
THE NEW Lopez Tower and Museum will have state-of-the-art building features.
According to data provided by Rockwell Land Corp., the new Lopez Museum in Rockwell Center will occupy two floors to display and showcase the valuable art pieces and artifacts the family has collected over the decades.
In particular, the library at the museum will feature over 17,000 titles of Filipiniana books, antique maps and archival material both rare as well as contemporary, while the Lopez Museum's art collection will showcase the exceptional works of renowned Filipino painters such as Juan Luna and Feliz Hidalgo, covering over 100 years of Philippine art history.
And what makes the new Lopez Museum more interesting is the way its lobby was designed which was patterned on the Lopez family tribute, "Undaunted." This chronicles the trials, tribulations and triumphs of the clan.
"We look forward to making this site a bustling hub where the group will plan and execute its strategies in the coming years," Padilla noted.
The new Lopez Tower and Museum, which will have state-of-the-art building features, will be actively pursuing a LEED Gold certification.
And like all other developments of upscale and premier property developer Rockwell Land, the Lopez Tower and Museum will have 100-percent backup power to ensure undisrupted work and productivity every single time.
The said tower will also have seven high-speed elevators, generous parking allocation, a comprehensive telecommunication network, fully integrated building management systems and an efficiently designed VRF air-conditioning system.
Prime location
Its prime location is further highlighted by its proximity to well-known and complete establishments in Rockwell Center.
The Power Plant Mall, which is home to over 50 restaurant choices, a supermarket and other retail establishments will be a hop and skip away for future employees. Other establishments, perks and services in the area include residential areas for lease, The Rockwell Club, the Ateneo Professional Schools and of course, proximity to the Makati and Ortigas Business Districts.
Source:
http://business.inquirer.net/60185/rockwell-center-to-house-history-culture-and-people

---
Permissions in this forum:
You
cannot
reply to topics in this forum